Medical device design in Massachusetts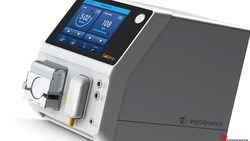 Massachusetts Medical Device Design
Massachusetts is the home to the famous Massachusetts Institute of Technology so the place is buzzing with innovations and talented people who can generate ideas and implement them 'in flesh'. This inspiring and challenging environment is a perfect match to goals we pursue and services we offer. Our company has a long and exceptionally successful record of developing medical equipment and consumables, so expansion of our scope of activities inevitably led us to Massachusetts as the desired second headquarters.
Medical device design in Massachusetts is definitely a challenging experience; however, this is what we strive to do – to detect the hidden gaps that should be filled and to fill them with products of superb quality and with attention to needs of end users – medical staff, patients and people who take preventive measures seriously. Our long history of successful fulfillment of complicated design projects was made possible by three prerequisites. First, it is the designing and engineering team. Contract medical device design development in Massachusetts and you'll discover that the team engaged in is equal in its talent and professional qualities to the core team based in New York, and often these two teams deal with one common projects investing their doubled efforts and skills into a particularly tricky task. Innovative environment and closeness of the scientific community allow us to draw upon this source of talents and professionalism and expand the horizons of contemporary design to previously unreachable limits.
The second reason is our keen attention to the main goal of designing – to embody the requirements set by the discovered gap into a visual physical form and develop this form into a working and medically tested prototype ready for mass production. Our expertise and deep attention to all specifications provided by customers allow us to roll out the development process with early identification of SWOT and avoidance of risks that may hinder the development and production path. We do not deal in design for the sake of design: our medical device product development in
Massachusetts comprises all stages of design, from rough concept to tested prototype and support in regulatory procedures and approbation process. We may deliver the whole complex of services or perform work required at some particular stage of product development. The portfolio of our Massachusetts design team covers a wide variety of medical projects in multiple areas, so any medical design challenge will be eagerly accepted by our team.